Behind the scenes from "Dead Hunt" (2007). Another victim, Ann Marie Barbour gets hacked is a safe and believeable manner.
The knife is made out of balsa wood, painted it to match the machete the antagonist carried in the movie. For safety reasons two wooden version of the real knife (one had a cut out, the other wasn't) was made so the actor could not accidentally harm anybody. The real knife was only used in the close-ups. And nobody could tell the difference.
To hack, or not to hack. I although it may look like the knife is buried into this actors head, but it's not. It is just a cutaway knife that I made for the movie "Dead Hunt".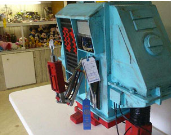 Life size build of the maintenance drone from the movie "Silent Running".
Have ever played a game only once?
What do you do when you want an atro-mech droid for yourself?
From the Silver Screen to Reality