My name is Joseph McClurkin and...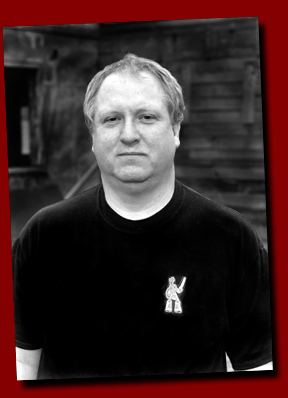 I Have been making people ugly for over 15 years, but I have been terrorizing my Family, friends and neighbors with my ghastly disguises for more than 30. I have the Police reports to prove it.
        My love for Special Effects can be traced to my childhood and to the introduction of Fantasy, Horror, and Science Fiction movies / television. My imagination took off when the movies ended. I not only tried to re-create a scene from the film, I tried to make it better: bloodier.
        I was the source in my neighborhood for Holloween effects before it became a trend as it is today. If you needed an extra arm, chopped fingers or quart of fake blood I was the one you came to. Unfortunately this is also where the Police came in too! These body parts were that realistic.
        I soon began giving make-up workshops at the local Science Fiction conventions and working for local college theatre productions. It was only a matter of time before I started to work for a couple of Independant movies. My most memorable movie to work on was "Dead Hunt", a film by Don Dohler. This was a special movie for me because I have always had admire his films of the late and early eighties. He was the local guy who made films and now I had a chance to work with him. Unfortunately, it was his last film. My experience with him and his process of work will always be with me.